Food Shortage Handjob – Sorceress Morgana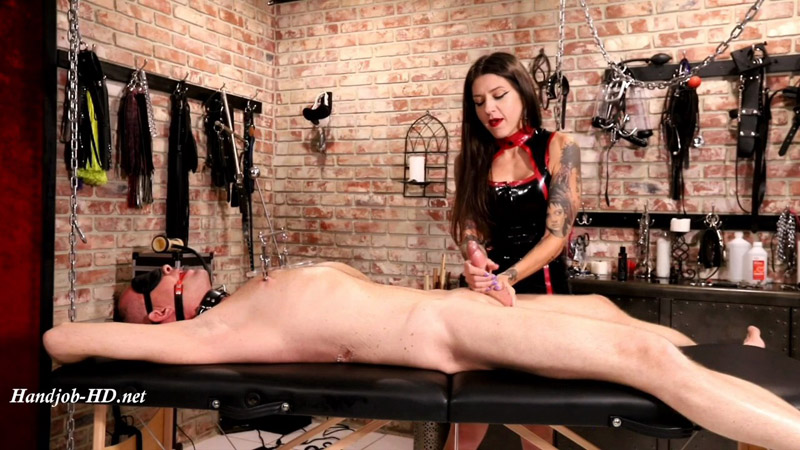 Food Shortage Handjob – Sorceress Morgana
When it comes to rationing it's All Hands On Deck!
Because of the food shortages, Sorceress Morgana Soles has decided to do her part for society. However, as the saying goes, charity begins at home. That means, Morgana wants to make sure her slaves are properly nourished to serve her. To that end, the Sorceress Supreme has chosen slave Algo to provide the cum and the protein for all the other slaves.
Wearing her shiny black latex with red trim, Morgana milks Algo, who is lying restrained, ball gagged, nipple-clamped, and blindfolded. In other words, Algo is at the mercy of his Magnificent Mistress for this emergency handjob. Algo is quite pleased to be of service during this burdensome time.
It's not a matter of favoritism, Morgana has chosen Algo for the utilitarian reason of him consistently producing the biggest loads. Stroking the Erect Penis with her Dazzling Hands, Morgana expresses confidence that her army will be well fed. Feeling relaxed, Morgana plays with the steel nipple clamp and teases Algo that she might play a game of "spin the wheel".
Mission accomplished, now all the slaves can cum over for an "all you can eat buffet" using Algo as a dining table courtesy of a Massive Milk Extraction!!
After such a noble effort, Morgana deserves to receive a humanitarian award!!!
Size: 423 Mb Duration: 7 min Resolution: 1920×1080 Format video: MP4

Download PrimePlus:
Food Shortage Handjob – Sorceress Morgana.mp4
Mirror:
Food Shortage Handjob – Sorceress Morgana.mp4