Cum! My Pony Slave – Aballs and cock crushing sexbomb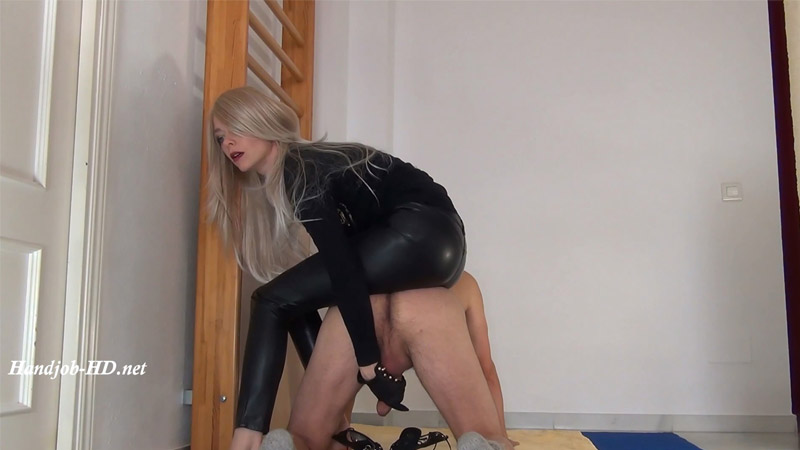 Cum! My Pony Slave – Aballs and cock crushing sexbomb
Mistress Alina applies another test to her slave. Will he serve as a pony? For almost half an hour he has to kneel on the floor and most of the time Alina is sitting on his back. Will he be able to carry her all the time?
But she is not only sitting there. With her leather gloves she rubs his cock and kneads his balls. Alternately she treats his genitals and his face with her feet.
But let's tell the story from the beginning: In completely black outfit the Mistress walks from behind towards her victim. Her "Badgirl-T-shirt", tight leather trousers, lace-up high heels, and these dangerous studded leather gloves bode ill for her slave.
She walks around her slave and holds her sandaled feet before his mouth. "Lick!" With a dominant look on her face she enjoys the feeling of his warm tongue on her feet. Next she walks behind him and gives him a couple of ball busting kicks with her high heels, before she sits down on his back and takes off her shoes.
What follows now is another sensual, dominant, playful and cruel lesson by Goddess Alina. She makes him crazy, she makes him suffer, she makes him lucky and she makes him addicted to her.
Alina rides on his back and at the same time she rubs his cock with her feet or she rides backwards and presses her feet against his face. "Kiss my soles! Lick them! Or I'll smother you with my feet!"
With her leather gloves she starts, giving him a handjob, then she beats his cock with the rivets. But suddenly a cruel ideas comes to her mind. With a sadistic expression on her face she takes off her gloves and then she puts them on the wrong way up. Now the spiky rivets are on the palms of her hands…
In a rough way she rubs his cock with the studded gloves, she squeezes his dick and nuts and she claps the mean rivets against his flesh. "Does it hurt? Hehe". Alina knows exactly how to take him close to his climax, but as soon as he has almost reached it she stops. "No! You must wait!" For minutes she has him there but each time he wants to shoot out his load she does something humiliating like ball- and cockbusting with her hands or feet, clapping of his bottom and much more. Watch Alina playing carrot and stick games with her victim.
Anyway she had something special in mind for the final. Backwards she is sitting on her slave's back, rubbing his cock with her studded gloves but at the same time she presses her barefeet soles against his face. And this time she takes it to an end.
You might have wondered why her shoes have always been placed right below his cock and now Alina gives us the answer. She milks his cum allover her shoes. His semen runs down the inner soles of her shoes wetting them completely. The slave jerks and his face digs into the Mistress' soles. He groans, trying to breathe, but Alina presses her feet even stronger against his face.
This climax is so awesome that we decided to show you picture in picture. The mistress is milking his cock empty and she presses her feet into his face. Certainly one of our best finals ever!
Alina won't stop before she has squeezed out the last drop of his cum and she rubs his cock even a bit longer. Looks like she was milking a cow! Then follows the next humiliation for her slave. Carefully she takes her shoes, showing us the sperm inside the shoe and then she holds them right before slave's face. "Lick my shoes!" The slave lingers but then he accepts. Anyway Alina only lets him taste a bit. Again she has a new idea. Once more she sits down on his back and now she puts on her cum covered shoes. With an unimpressed expression on her face, she feels the slimy sperm under her feet and when she's done up the shoelaces she stands up, crushing his cum inside her shoes and some of his cum oozes out from her shoe.
One last time she turns to slave's face and now he must clean her shoes and feet from his semen. "Well done, slave!" Still with lots of cum inside her sandals under her feet she walks away.
Size: 2.1 GiB Duration: 28 min Resolution: 1920×1080 Format video: MP4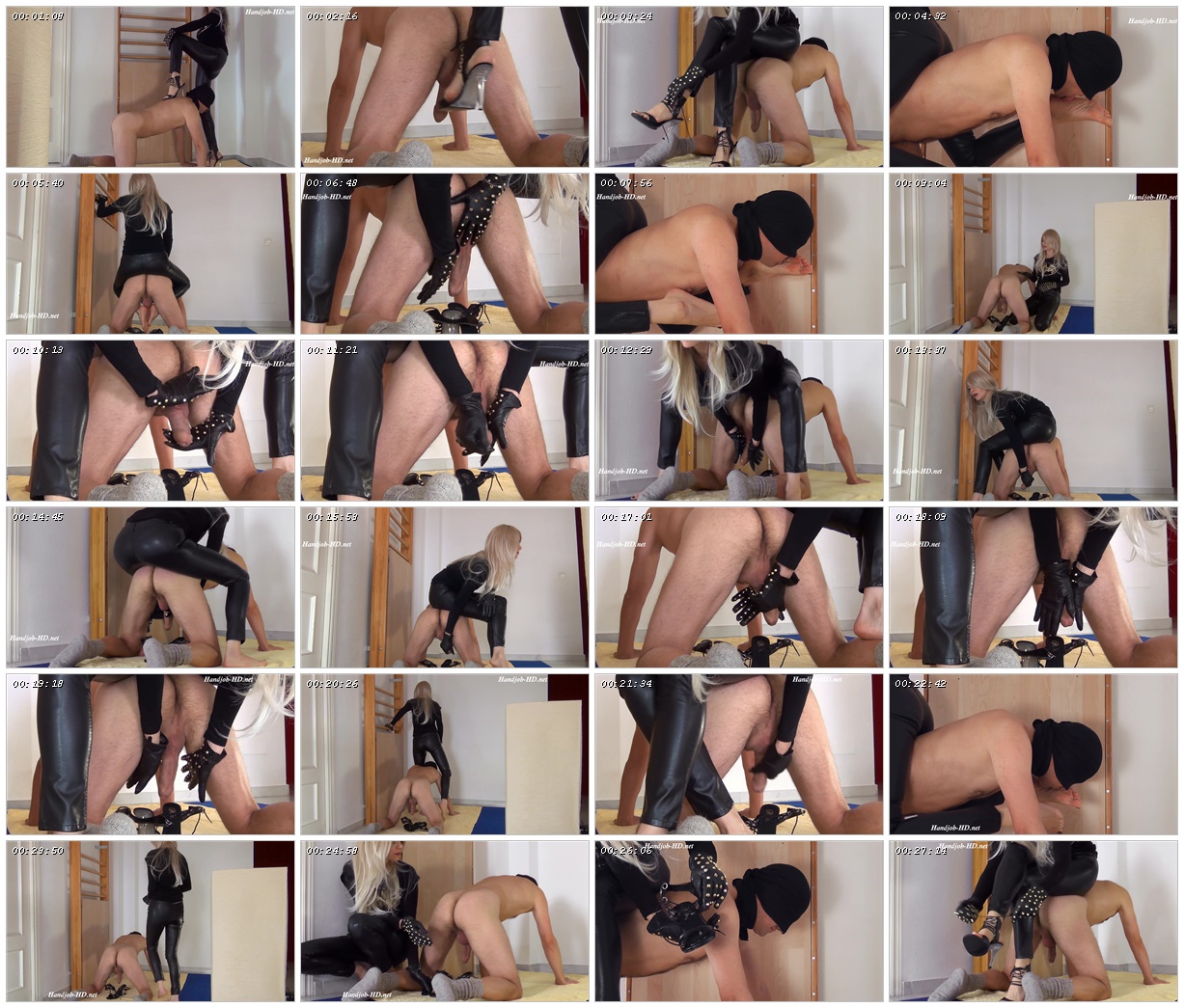 Download link:
Cum! My Pony Slave – Aballs and cock crushing sexbomb.mp4