472 Kiss of a Demon Queen – Angel The Dreamgirl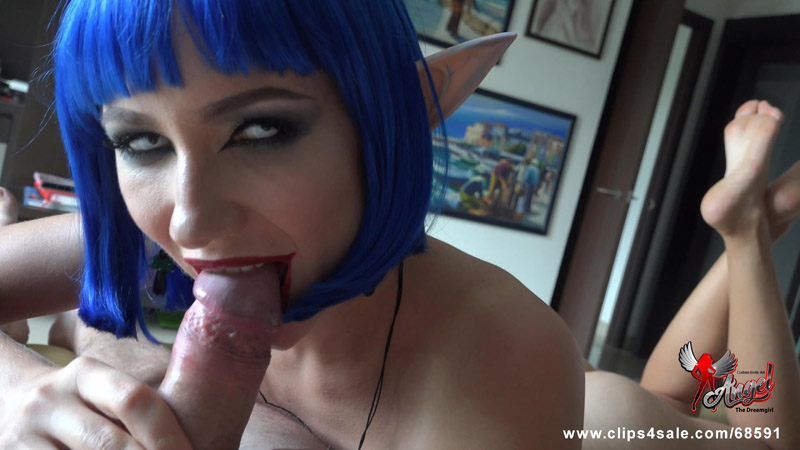 472 Kiss of a Demon Queen – Angel The Dreamgirl
Man is out for a swim at the edge of the woods. But these woods are ruled by an evil forest demon. She spies him from the trees, and as he gets out, she sneaks from behind. He hears her, turns, and she put her hand out. An invisible power freezes him and throws him against a tree. His back pressed against the tree, he struggles but can't move. She approaches him, kisses and nibbles his bottom lip. She slowly drops to her knees, giving small nibbles and bites down his chest and stomach along the way.
She gets down to his wet trunks, pulls them down and giggles at his penis. She sniffs it like an ani mal and exhales her warm breath on his twitching organ. She sneaks little licks of it to get his taste, and as he becomes erect, she playfully snaps her teeth at it while his excited penis bobs up and down, just barely escaping her jaws. She pushes his erection down with her fingertip to make it bounce back up, and like a curious cat, gently pokes it, batting it and dancing her fingertips and nails along his penis and balls.
Scene 2 (rest of video shot in close-up POV, keeping your face and his penis in the shot, similar to 231 "Finger job", optional second camera for side-shots)
He wakes and finds he can barely move (possibly tied and gagged, or by magic). Switching to POV, she climbs up from the foot of his bed, completely nude, and pulls away his bed sheets. He is only in his underwear; she crawls up to his crotch, and sniffs like an ani mal at his underwear. She nibbles his inner thigh, plays with the growing bulge in his underwear, then pulls at it to expose his penis as it starts bouncing and twitching on its own. She giggles with an evil grin.
She sniffs it and exhales her warm breath on his penis. She sneaks little kisses and licks of it to get his taste, and playfully snaps her teeth at it while his excited penis bobs up and down, just barely escaping her jaws. She pushes his erection around with her fingertip, make it bounce and spring, tickles it with her fingernails and gives a sweet suckle and nibble on his foreskin.
She starts to give a playful, edging handjob/blowjob, mostly focused on teasing his penis head, foreskin and frenulum (could include kissing, licking, nibbling/biting, pinching/scratching, light slapping). She drools on the head to keep it wet.
She notices precum, touches and tastes it from her fingertip, enjoying the taste. She bunches his foreskin up tightly over his cockhead, then firmly but very slowly pulls his foreskin back until she is holding his cock tightly pulled back to the base and his large head is fully exposed and vulnerable to her. She rubs her teeth against the tip, then nibbles and gently bites/chews the swollen glans. After a few moments of this, she giggles as she kisses and licks it all better and resumes her blowjob/handjob.
Scene 3 Between a teasing handjob/fingerjob and a gentle rubbing under his peehole, he explodes into as massive a cumshot as can be managed. She squeals with delight as she watches powerful shots spray his stomach (if two cameras, orgasm scene can be replayed from side profile). But before he can finish, she takes the very tip of the squirting head of his penis gently between teeth while grinning wickedly at the camera, and just holds it there, drool and cum dripping from the side of her mouth. His body shakes in ecstasy and fear while she nods her head slowly, looking directly into the camera with her wicked smile.
She wraps her hand around his penis (blocking the view of her mouth) and pretends to bite into the tip. His body twitches, he squeals, and the camera cuts to black.
Size: 3.4 GiB Duration: 20 min Resolution: 3840×2160 Format video: MP4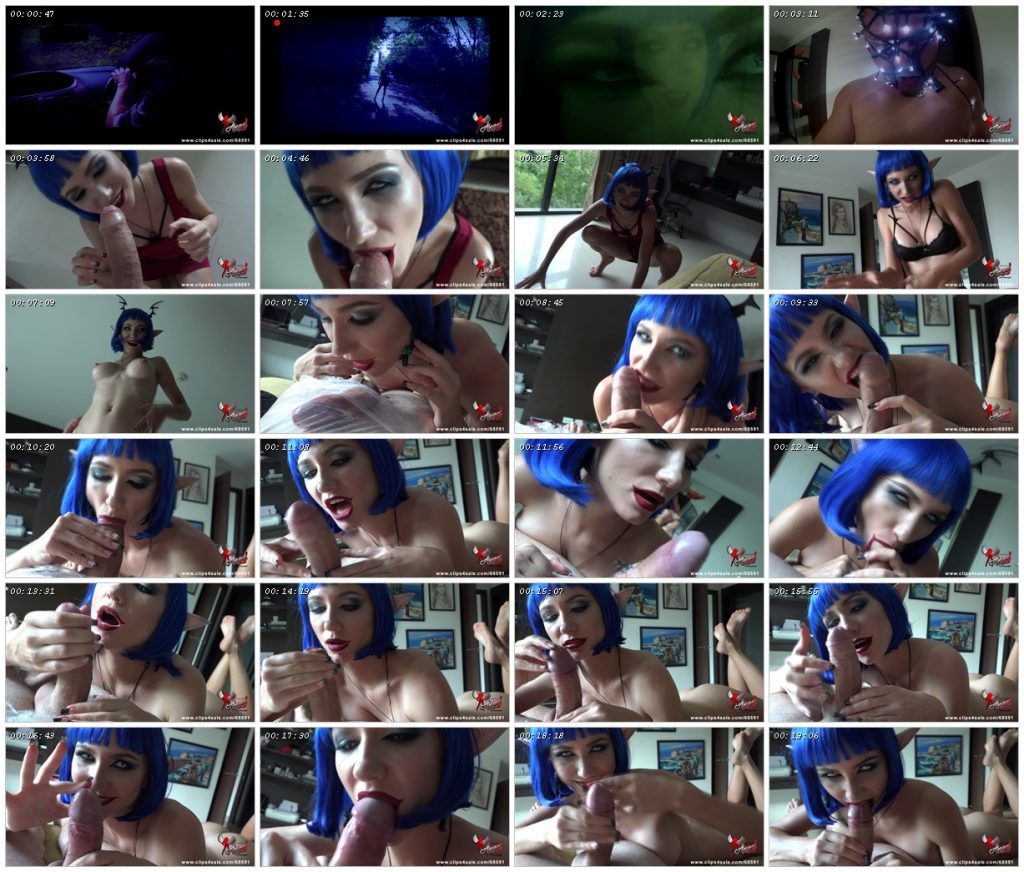 Download link:
472 Kiss of a Demon Queen – Angel The Dreamgirl.mp4